An Introduction To Sage Business Cloud Enterprise Management [WEBINAR]
21 Aug 2018 | by Brett Mundell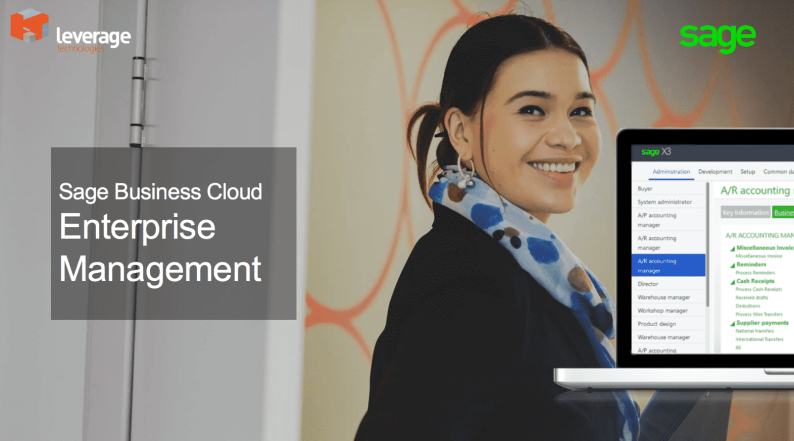 A few months ago, we have showcased a demo of Sage Business Cloud Enterprise Management for the Food & Beverage industry.
Today, Leverage Technologies invited Sue Coleman, Technical Consultant at Sage Australia to present a high-level overview of Sage Business Cloud Enterprise Management – the ERP software solutions for larger businesses with complex requirements.
During this Webinar, we will explore what the Sage Enterprise Management ERP solution looks like through a live demonstration. We will cover the main aspects of the solution including:
The business processes Sage Enterprise Management is best suited for;
Platform navigation and usability;
Sales order process;
Plan to manufacture;
Purchase order process;
Financials;
Reporting.
Typically, Sage Enterprise Management can be showcased at its best when applied to a real-world scenario, being a particular industry or functionality. For today's purpose, we will try to give you a bird-eye view of what's possible within the platform without going too much into details for each specific functionality.
For a more detailed overview or to schedule a personalised demo, feel free to call us on 1300 045 046 or email [email protected].
Sage Business Cloud Enterprise Management in 45 minutes with Sue Coleman
Who is Enterprise Management for?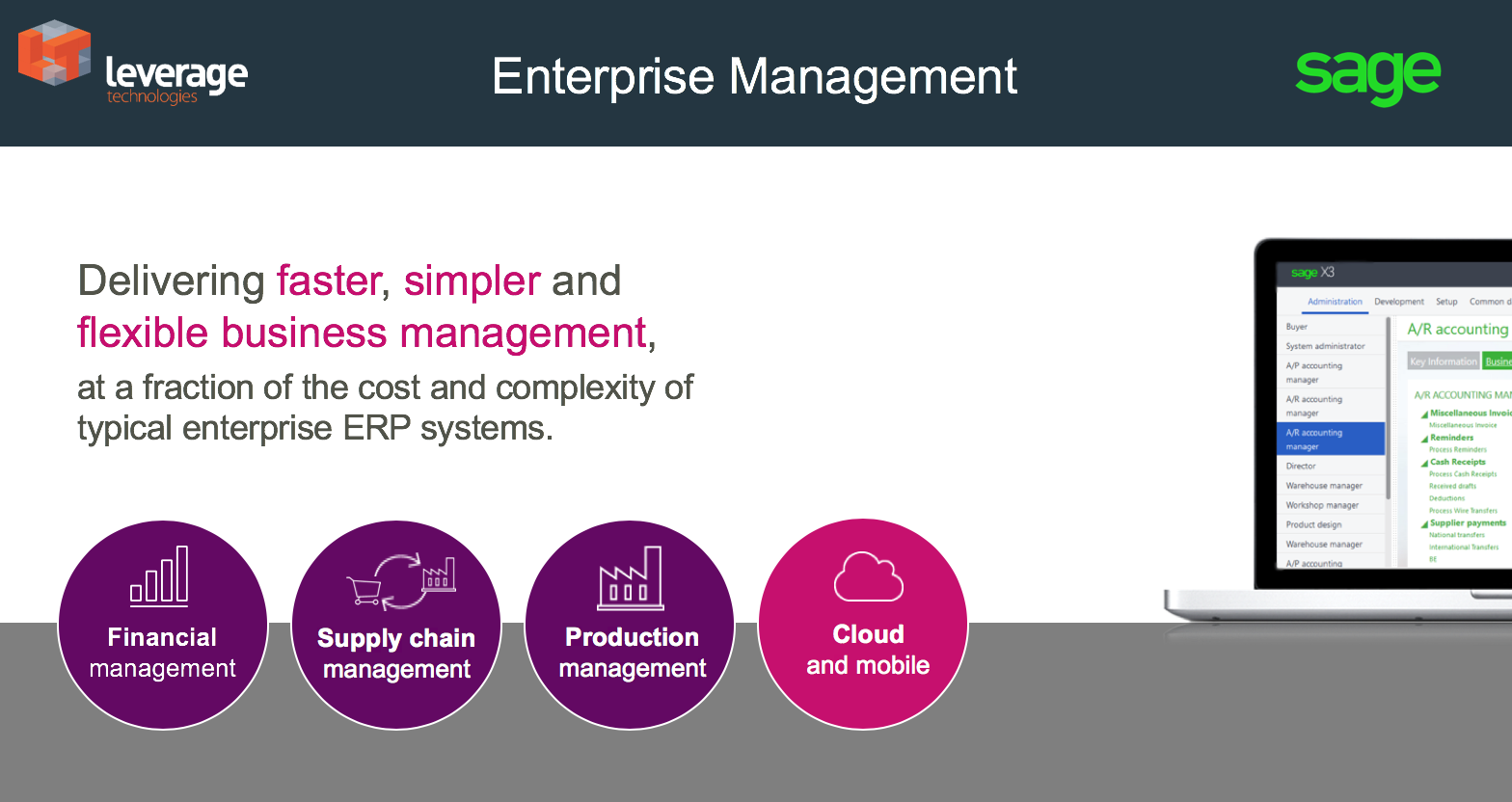 First of all, what is Sage Enterprise Management and who is it for?
Sage Enterprise Management is the ERP software that gives companies with complex requirements access to faster, simpler and flexible business management capabilities, at a fraction of the cost and complexity of typical enterprise ERP systems.
So, what do we mean by complex requirements? Who are these companies?
Enterprise Management is optimal for companies with more than 100 employees or an average of 30 ERP users, in distribution, manufacturing or services. With distributed or global operations, multi-currency, multi-language, multi-site/warehouse but limited budget and technology resources. Looking for a fast and affordable solution to optimise financial, production and/or supply chain management processes, following best practices.
Sage Business Cloud Enterprise Management also embraces the latest technology trends in the market, such as web-based UI, mobile apps, visual process flows, automated business processes, real-time business intelligence and many other functionalities that help businesses improve productivity.
What do we mean by "complex requirements"?
Businesses that have a level of complexity within their operations. Complexity can be the result of several aspects within a business, such as:
Multi-language and legislation;
Multi-currency (all currencies);
Multi-ledger, multi-journal;
Multi-company, sites and warehouses;
Inter-company/inter-site transactions;
Multi-level structure/dimensions accounting – for more information read the article "Automated Bank Reconciliation With Sage Enterprise Management"
Multiple asset depreciation methods;
Multiple units of measure;
Multiple stock-costing methods;
Multiple production methods and mixed modes (ATO, MTO, CTO, MTS, MPM).
A large number of businesses currently operate a complex process.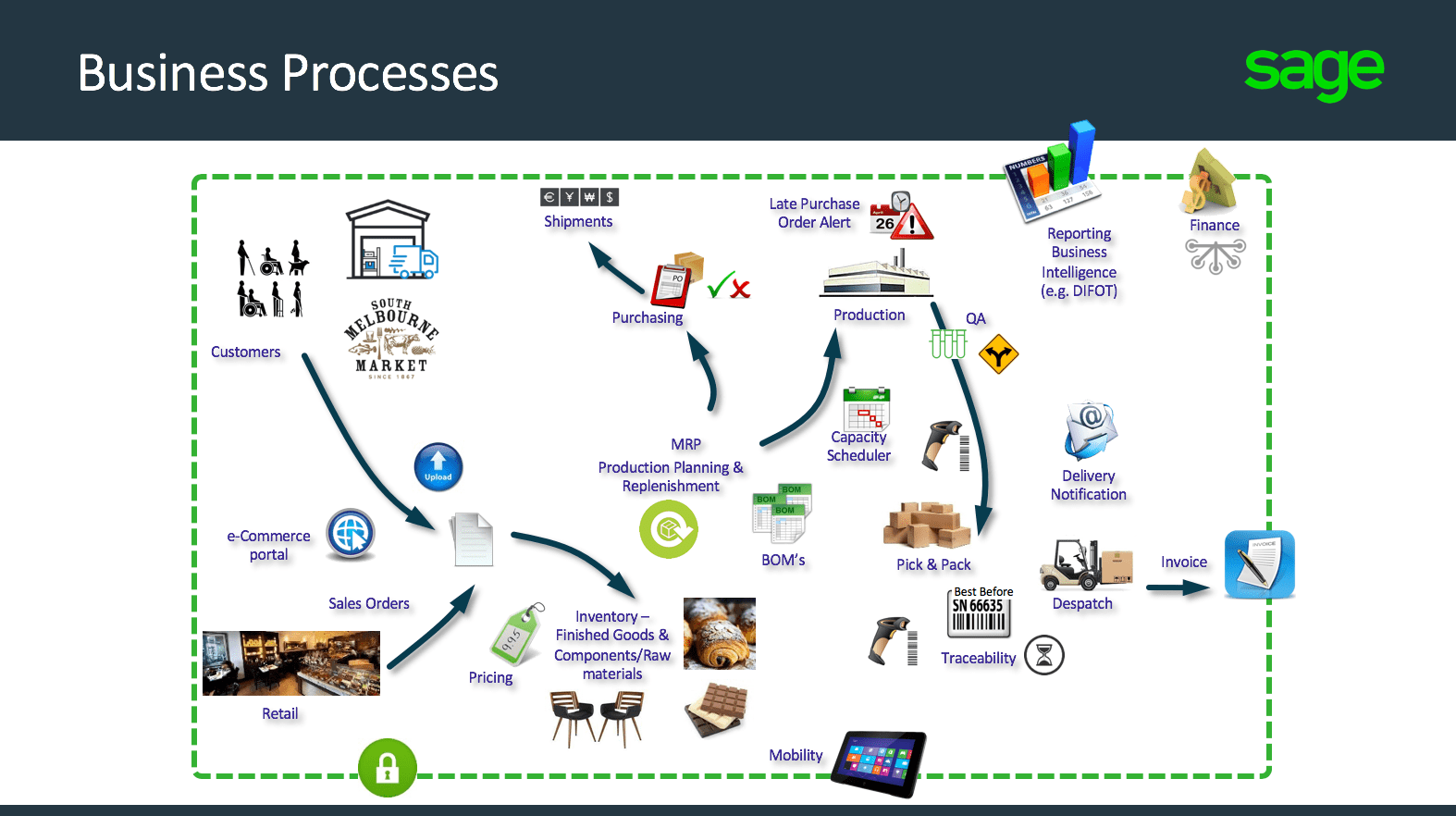 It all starts with customers – customer demand comes from a variety of places (e-commerce, retail outlets,…). Material Requirements Planning (MRP) helps you plan for this demand – what to purchase, when and in what quantities to ensure successful production and delivery of goods. At the same time, inventory levels need to be accurate (components or finished goods) because customers want in full, on-time delivery of products. Everything needs to be tracked and optimised overtime to ensure that further efficiencies can be created within the business.
If we add the fact that many businesses operate multiple warehouses, multiple entities, and cross-country operations – we now have a complex environment.
Conclusion
Sage Enterprise Management aims to simplify and streamline complex daily operations for businesses. The is locally implemented and supported in Australia and securely hosted in the Cloud. In this 45-minute demo presentation, Sue Coleman from Sage Australia showed us just that.
At Leverage Technologies, we have implemented the Sage ERP software for many Australian complex businesses.
For more information on Sage Business Cloud Enterprise Management or to set up a personalised demo, call us on 1300 045 046 or email [email protected]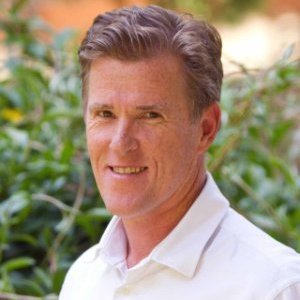 Brett has more than 20 years of business software sales and company management experience. Brett has been involved in more than 300 ERP projects. His passion is customer satisfaction, making sure every client is more than just satisfied. Brett wants our customers to be driven to refer their friends and peers because we offer the best services and technology available and because we exceeded their expectations.