Top 3 ERP Misconceptions & Myths Businesses Want To Believe
19 Jul 2018 | by Brett Mundell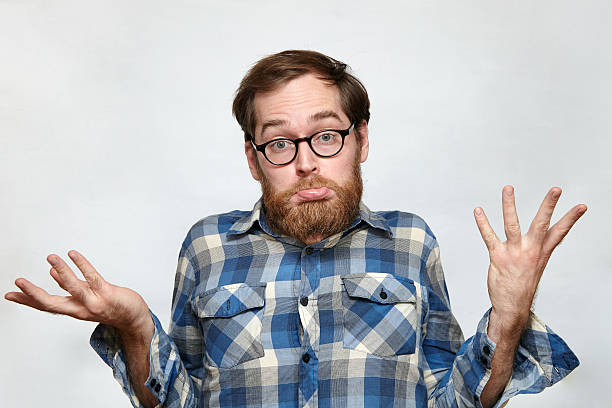 In this article, we are going to review some of the common ERP myths & misconceptions that often come up during our consulting sessions. If you are going through an ERP selection/evaluation process for your business, we hope that this article will help you shed some light on what ERP is, what it's not and what your options are.
After having implemented Enterprise Resource Planning software for more than a decade, we have come across a number of situations where the perception about these solutions is far from reality.
Enterprise Resource Planning is only for large businesses
ERP is only for manufacturing companies
ERP is too expensive
Here is our view on why Enterprise Resource Planning software is misinterpreted in these instances, backed by real-world scenarios and articles that we have written in the past.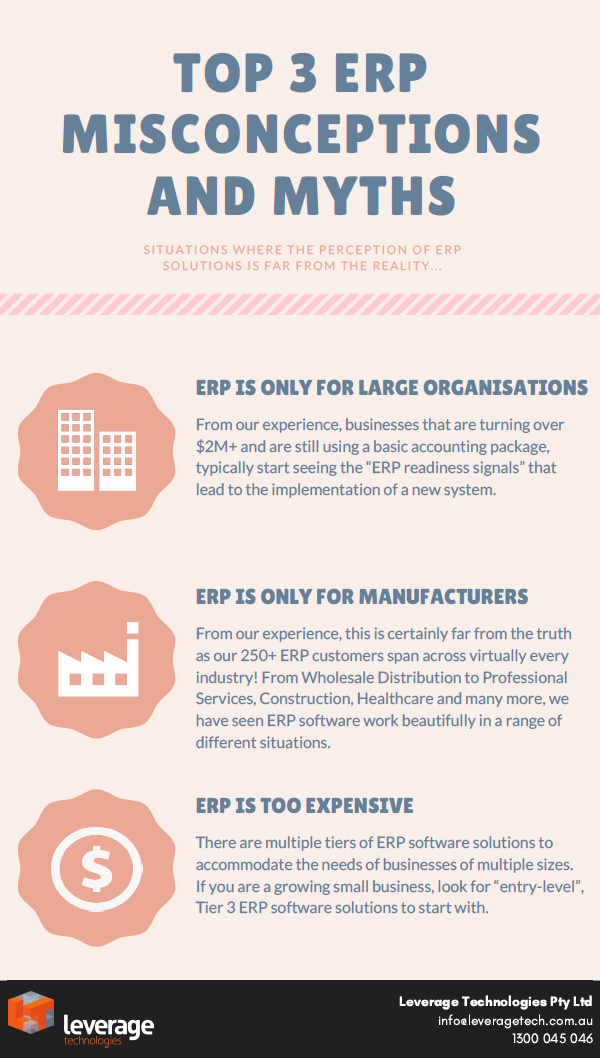 #1 ERP is only for large organisations
The top misconception about Enterprise Resource Planning is that only large organisations have the necessity for ERP solutions.
Our answer is that you don't have to be big, but you need to have a growth mindset and the ambition to scale your organisation. In fact, ERP software gives you the ability to streamline your operations and increase productivity, no matter what the size of your business!
From Finance to Inventory, Manufacturing, Reporting and more. ERP gives you a "single source of truth" that is used across all the areas of your business to consolidate disparate systems and eliminate manual processes.
Although large organisations have a major appetite for ERP software solutions, small and midsize businesses can also go to market for a new ERP to step up their capabilities.
From our experience, businesses that are turning over $2M+ and are still using a basic accounting package, typically start seeing the "ERP readiness signals" that lead to the implementation of a new system.
#2 ERP is only for manufacturing companies
Manufacturing businesses have without a doubt a large degree of interest in adopting Enterprise Resource Planning solutions. It is no secret that industries such as food & beverage but also discrete manufacturing see ERP has the key to success.
However, a common misconception is that unless your business has a manufacturing component to it, ERP has no reason to be adopted.
From our experience, this is certainly far from the truth as our 250+ ERP customers span across virtually every industry! From Wholesale Distribution to Professional Services, Construction, Healthcare and many more, we have seen ERP software work beautifully in a range of different situations.
To further disrupt this common ERP misconception, check the following case studies:
#3 ERP is too expensive
Budgeting for ERP software is not an easy task and requires involvement from multiple parties. The good news is that there are multiple price points to choose from according to your business size, budget availability and desired outcomes.
"ERP is expensive" – Our response to this common ERP misconception is:
There are multiple tiers of ERP software solutions to accommodate the needs of businesses of multiple sizes. If you are a growing small business, look for "entry-level", Tier 3 ERP software solutions to start with.
ERP shouldn't be looked at merely as an expensive exercise! In fact, ERP systems are often implemented when your actual internal systems are limiting your business. By removing the limitations of your current system, you open up to a new way of moving your business forward to better operations, enhanced capabilities and growth. For more information, read our recent article about "the cost of not implementing an ERP solution".
Modern technologies have transformed the way you use and pay for ERP software. Long gone are the days of costly, ERP implementations. The advent of Cloud Computing technologies means that your ERP software is now delivered to your organisation "as a service" and the CapEx model is being disrupted by an OpEx alternative. The result? Learn all about Cloud-based ERP and what it means for your business in this article.
Conclusion
If you look at the common ERP myths, it is clear how most companies might be missing out on a true opportunity for growth.
If you still think that ERP is only for large organisations or enterprises, likely in the manufacturing industry, that have access to massive implementation budgets, think again!
Today's ERP is Cloud-based, adaptable and scalable, which means that any organisation with a growth mindset can step up to a whole new way of running their business.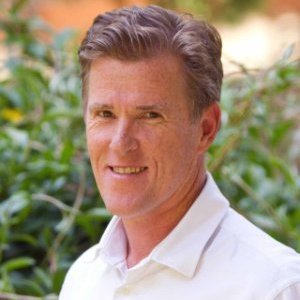 Brett has more than 20 years of business software sales and company management experience. Brett has been involved in more than 300 ERP projects. His passion is customer satisfaction, making sure every client is more than just satisfied. Brett wants our customers to be driven to refer their friends and peers because we offer the best services and technology available and because we exceeded their expectations.