SAP Business One – Workbench Project Management Software – Job Costing and Contract Management
21 Mar 2014 | by Natalie
If your business is job / project based you will understand that your industry has specific business management and operational software requirements. Your requirements will typically include timesheet capture, job based reporting, work in progress tracking, contract management and estimating.
The good news is that Workbench Project Management Software has been integrated with SAP Business One to offer you a total solution for your complex job costing and project management requirements. If you already use Workbench Project Management Software for your job costing requirements you might want to consider SAP Business One for your general ledger, purchasing, financial reporting, BAS and cash management requirements.
There is comprehensive two way integration between SAP Business One and Workbench Project Management for SAP Business One.
SAP Business One Workbench Project Management integration: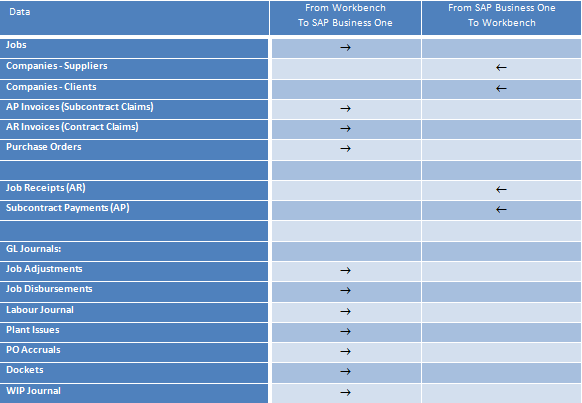 Industries supported include construction, contracting (civil and general), engineering, maintenance and services.
In these project based industries estimating / quoting and management of the project to a budget are critical elements to ensure profitability – particularly on lower margin jobs. Complex progress claims, variations and scope changes can all be managed in Workbench Project Management for SAP Business One. With integration to SAP Business One you get best of breed applications – SAP Business One offers full financial management, reporting and mobility.