SAP Business One Procurement Opportunity Management
03 Aug 2015 | by Natalie
SAP is continuously releasing new versions and updates for SAP Business One. A recent functional enactment to the sales opportunities in SAP Business One has seen the team at SAP add procurement / purchasing opportunity functionality. Many people have used the SAP Business One opportunity management – as part of the CRM solution in SAP Business One. The great news is that the same opportunity management functionality, with a few enhancements can now be used for purchase / procurement management.
SAP Business One Procurement Management:

Procurement management will typically be used to manage supplier negotiations, activities and correspondence. This is particularly relevant if you are negotiating complex supplier agreements or bidding for specific items.
SAP Business One procurement management will allow the user to manage the various stages of the procurement cycle. Stages can be defined by the user. Let's look at a typical example. If you are negotiating a complex procurement cycle your stages might be:
Send out request for proposal for suppliers to complete;
Accept completed proposals;
Evaluate proposals;
Choose shortlist of potential suppliers;
Demonstration of supplier capability;
Get supplier agreements;
Finalise agreements;
Pay supplier deposit invoice.
Manage the stages of your purchasing cycle using SAP Business One: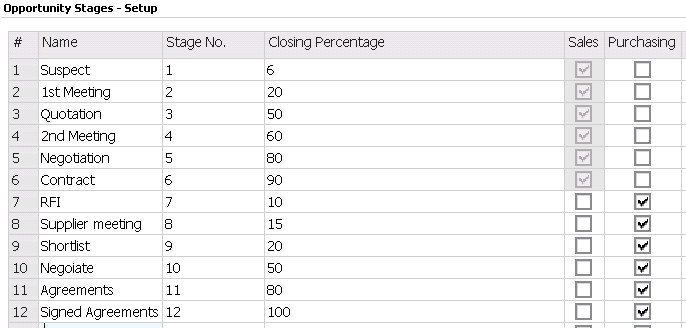 Using SAP Business One procurement management each stage in the procurement cycle can be managed by your purchasing department. You can also attach contracts and supplier documentation in the opportunity attachments tab – this will ensure that all relevant documentation is safely stored for quick easy retrieval. Notes and activities can be added to ensure that any team members working on the procurement / supplier agreement are kept up to date with the latest developments and negotiations.
Keep track of complex supplier negotiations: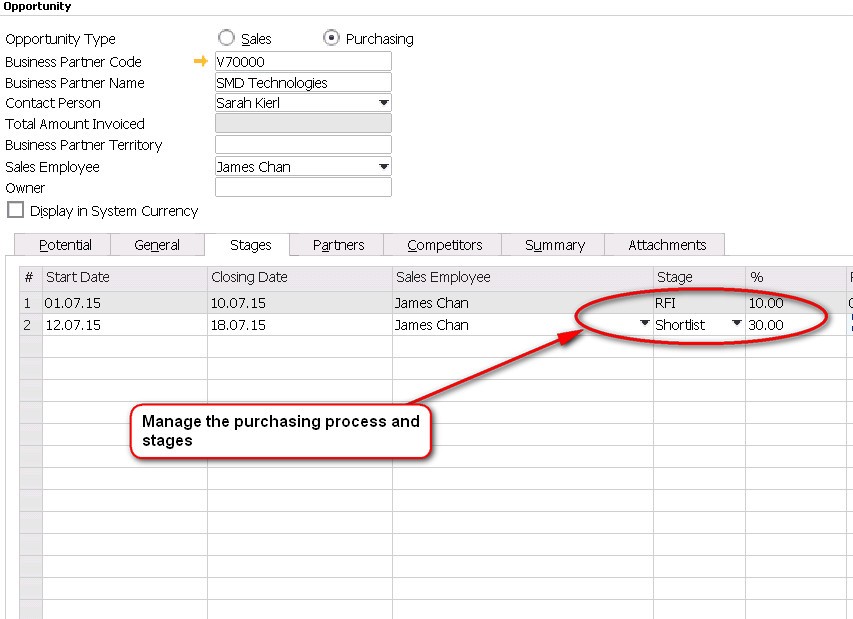 This is another great example of the team at SAP adding simple but useful functionality to SAP Business One.
SAP Business One purchase opportunity management demo: