SAP Business One Dunning letters – helping your business collect cash.
10 Aug 2015 | by Natalie
Most SME's will agree that cash is critical for business growth. ERP providers talk about helping with the quote to cash process – expediting the collection of cash in your business. The good news is that SAP Business One provides us with multiple cash collection tools and reports to help improve your cash flow. The dunning letter facility available in SAP Business One can automate reminder letters to your overdue debtors. These reminder letters are sent to your overdue debtors based on rules that you set in the SAP Business One dunning letter module. Let's take a quick look at how this works:
You can set-up your dunning terms in the SAP Business One Dunning Terms Setup window. This configuration screen allows you to assign different letter layouts and severity levels to overdue debtors. As an example you might send dunning letter layout 1 (a simple reminder) to debtors that are 60 days overdue. This letter might be a simple reminder – something like "please note that your account is in 60 days – we would appreciate prompt payment. Please can you arrange payment of the outstanding 60 day balance of $8,688 as soon as possible?" Dunning letter 2, which might be sent on 90 days could have a somewhat firmer tone. The good news is that you can decide on the wording of each letter and can assign different letter formats to different customers. As an example you might decide that certain customers are exempt from dunning letters. As with many SAP Business One options and configurations – the choice is yours.
You can decide if there is a "fee per letter" and interest calculations / costs can be added to overdue accounts.
The dunning letter configuration window also allows you to set a minimum balance requirement. For example you might not want to send dunning letters to customers who owe you less than $100. Once again the configuration choices are yours to make.
 SAP Business One Dunning Letter Setup: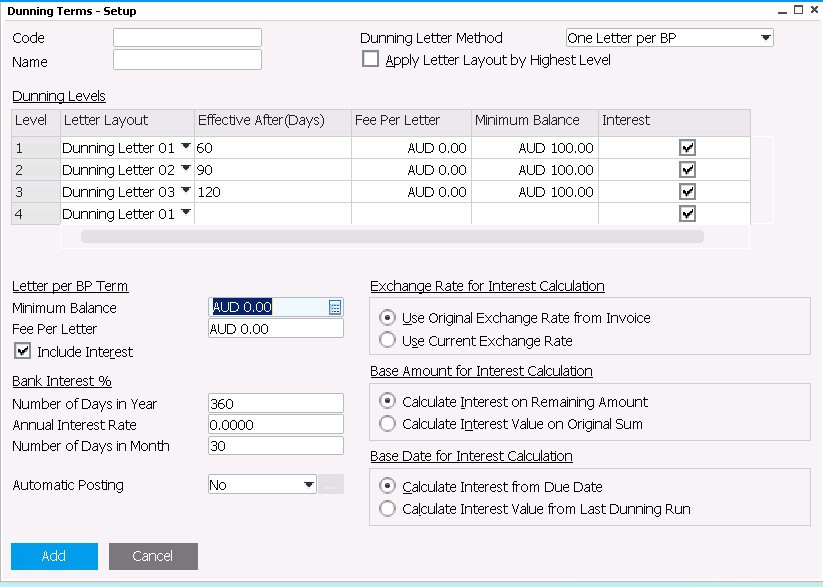 Use the SAP Business One dunning letter wizard to configure the mailing of your reminder letters. This process leads you through some simple choices to create the reminder letters and send them to your overdue debtors.
SAP Business One – Dunning Letter Wizard: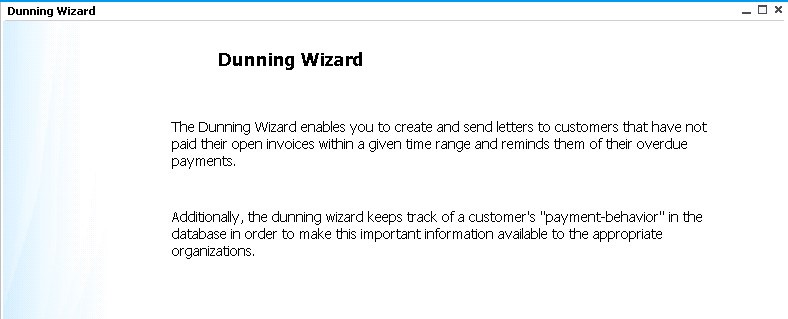 SAP Business One Dunning Letter – setting general parameters: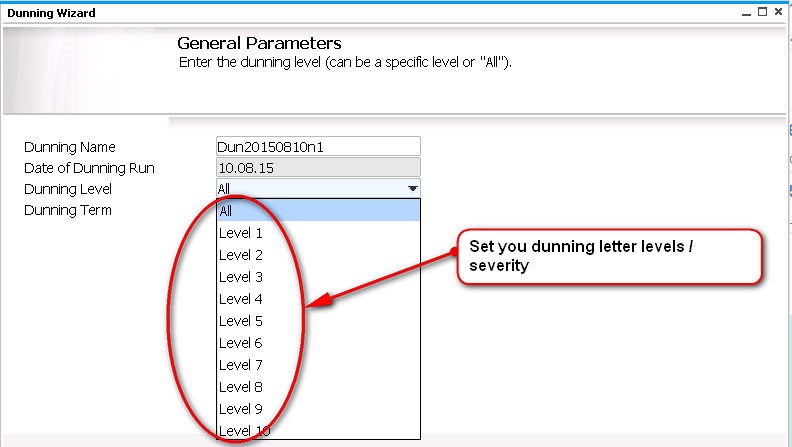 Other steps included in the SAP Business One Dunning Letter Wizard include:
Select the business partner (debtor) or range of debtors that you want included in a dunning / reminder letter report: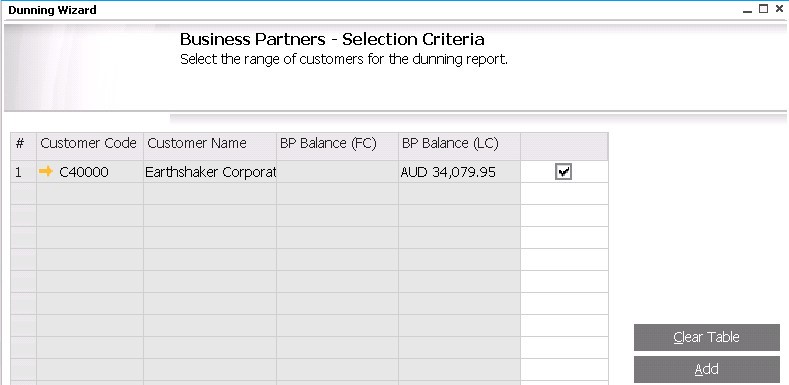 Set your document parameters: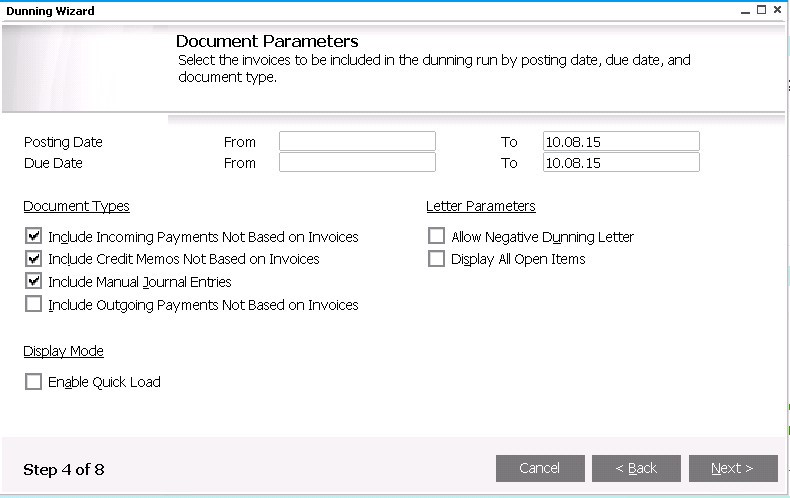 Review the recommendation report. This standard SAP Business One report can be used to check the details of relevant customers due for a reminder letter, terms, outstanding amounts and interest, if applicable. As you can see from the screenshot below each invoice is individually listed. If you want some invoices excluded from the reminder letter you can simply un-tick the relevant invoice. This option might be used if you are aware of an issue with one particular invoice or invoice that relates to an unfinished service and you do not want that particular invoice excluded from the reminder letter / dunning wizard run.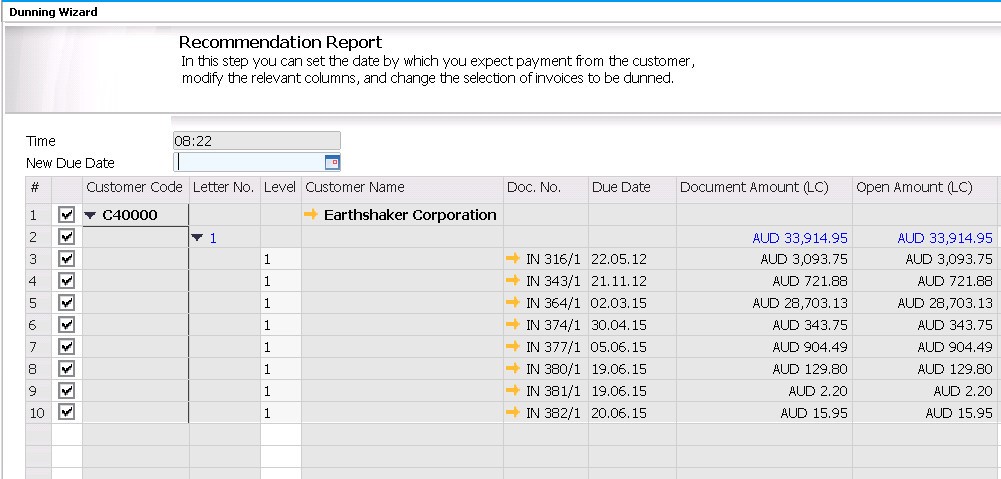 As we all know SAP is constantly enhancing SAP Business One. A recent minor patch level release has seen the team at SAP add the ability to send emails out directly from the dunning wizard. SAP Business One 9.1 PL6 allows several options for delivery of the dunning / reminder letters:
Save the selection and exit,
Save the recommendation report as a draft and exit,
Execute only and exit. Print or email the letters later,
Print dunning letters and exit,
Email dunning letters and exit (SAP Business One 9.1 PL6 enhancement).
As you can see SAP Business One dunning letters is another way of automating business processes to help your business with cash collection.
See a demo video on Dunning Letters.