SAP Business One Drag and Drop from MS Outlook
22 Aug 2012 | by Natalie
In SAP Business One  – all marketing documents now come with a new "attachment" tab. With this users can now "drag and drop" MS Outlook mail to this attachment tab in marketing documents. This link is saved automatically in the attachment tab and the documents are saved in the attachment folders (that you specify under General Settings).
Documents can be attached to most data areas – for example business partners and products.
As well as attachments on all marketing documents you can also use attachments for:
AR / AP Quotes, Orders, Deliveries, Returns, Invoices, Credits
Inventory – Receipts, Issues
Production – Receipts, Issues
Service calls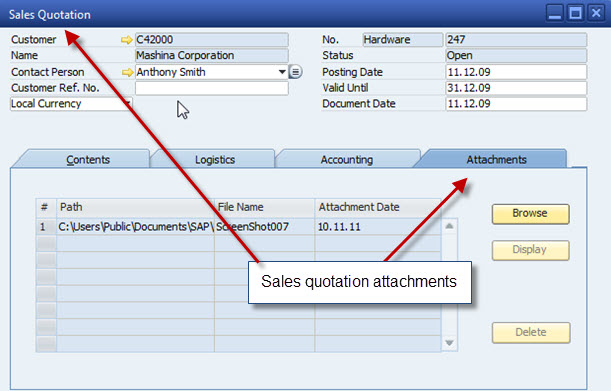 To create an attachment from MS Outlook you simply drag and drop from MS Outlook into the marketing document.
Prerequisites include – SAP Business One 8.81 patch level 8+, MS Outlook and configuration of the attachments folder in SAP Business One. (Administration – System Initialization – General – Settings – click on the "path" tab and set up the attachments location. More great functionality from the team at SAP……..SAP Business One 8.81…….