SAP Business One 9.1 HANA – Cockpit, Widgets and KPI's – a new world of data analysis
24 Feb 2015 | by Natalie
The team at Leverage Technologies has recently implemented SAP Business One 9.1 HANA – wow – incredible functionality. Let's start by discussing the new KPI's, dashboards and widgets available in the role based cockpit view.
In today's world of "big data" we all need quick, easy to access to information – instant analytics – where and when we want it. SAP Business One 9.1 HANA – is the answer. The cockpit view includes the ability to add HTML 5 widgets, KPI's, recent updates, "my workbench" and more. Let's look at this functionality in more detail.
SAP Business One 9.1 HANA Cockpit – KPI's, widgets and dashboard reporting: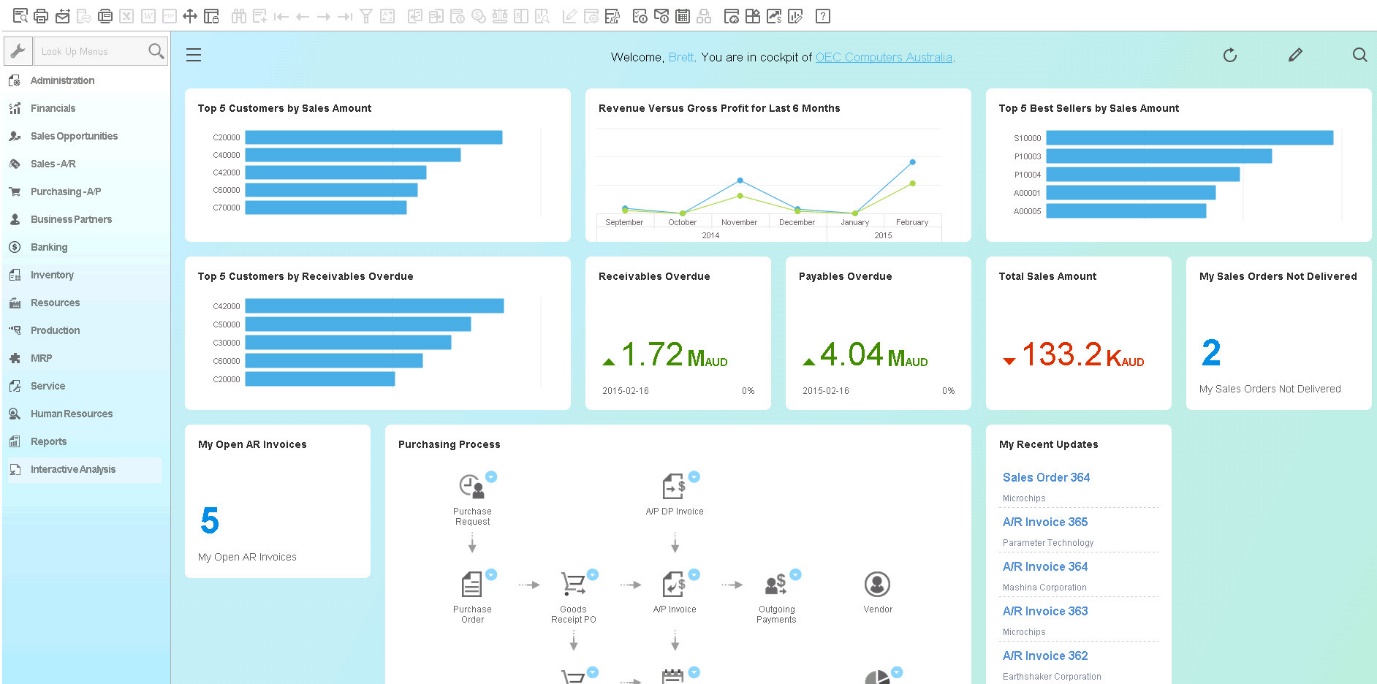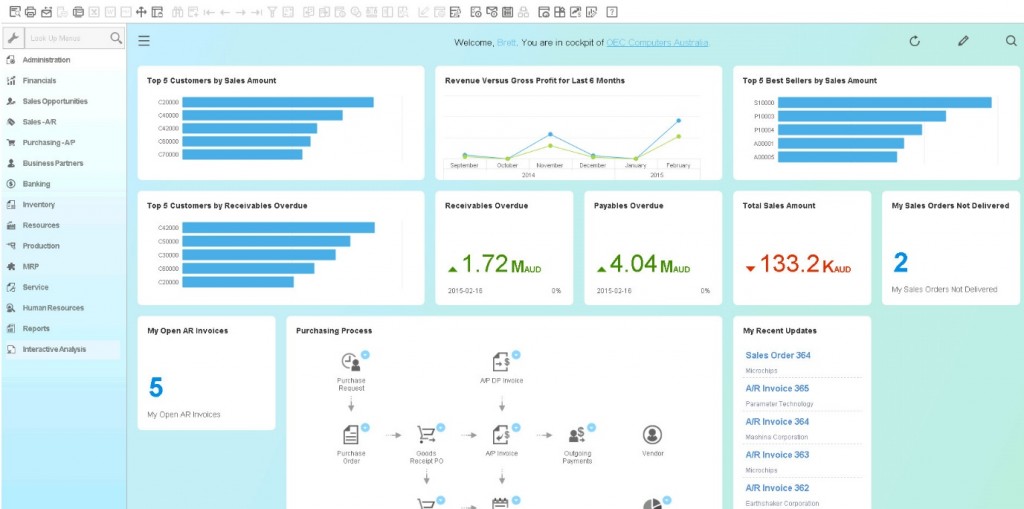 With the correct authorisations users can create their own role based cockpit views of KPI's, dashboards and widgets in SAP Business One 9.1 HANA. Alternatively a user can choose from one of the standard SAP cockpit views – Sales, Purchasing, Finance and Inventory are standard available cockpit views. Users can be assigned to a permission group (for example sales). This will give the sales team access to all Sales widgets and KPI's.
SAP Business One 9.1 HANA Enterprise Search – The SAP Business One 9.1 HANA enterprise search gives users new ways to find the information they want quickly – at the click of a button. The HANA Enterprise Search allows users to search the entire SAP Business One database for documents, master data and related information – using SAP Business One HANA technology to return the search results in milliseconds. Users can also save frequent searches by creating a search template for later use.
SAP Business One 9.1 HANA – Enterprise search made easy: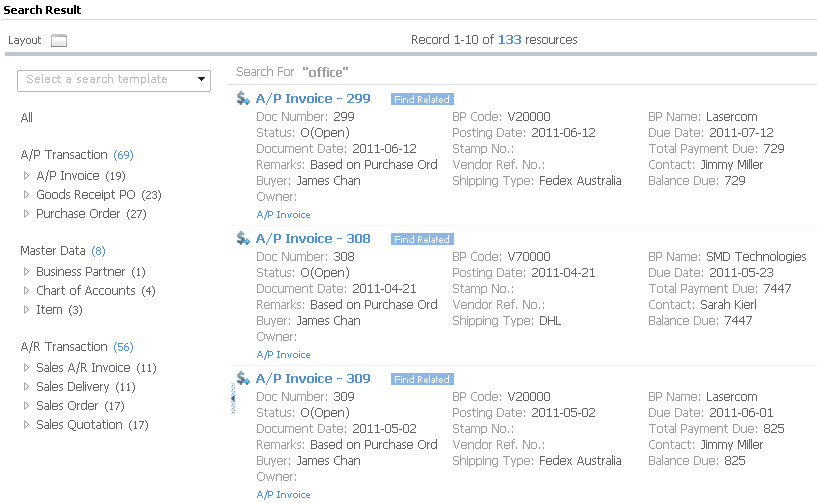 SAP Business One 9.1 HANA Workbench – a standardised work process. Workflow and a whole lot more. A user can click on the icons to open transactions directly from the HANA workbench. Users can also access additional functions and tasks by clicking on the context menu options (blue dot) – launch actions from the workbench to help with daily tasks. Click on the blue dot next to the purchase order function to be able to go directly to an open items list, document drafts report, price report, last prices report, inventory status and more….quick, easy access to information to guide the user through key business processes.
SAP Business One 9.1 HANA Workbench – workflow made easy: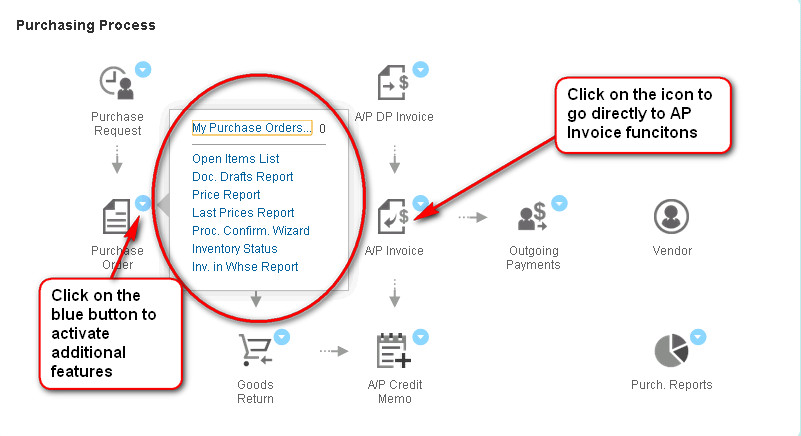 My recent updates – GL account changes, customer credit and marketing documents added. Get a snapshot of your recent updates and transactions in SAP Business One 9.1 HANA.
A user can drill down to their recent updates by clicking on the item or document. As an example (seen below) clicking on sales order 364 will drill you down to sales order 364.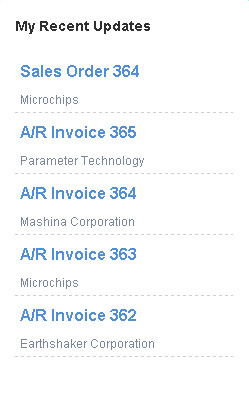 Count widgets – shows the number of items returned from a query. For example high value customers or open AR invoices or sales orders not delivered, purchase orders not received or open inventory transfer requests.
You can personalize the cockpit to your requirements by adding, deleting or creating widgets and KPI's that are applicable to your requirements and information needs – giving you the information that you need when you need it. You can set up your own user defined query by going to Tools – Cockpit – Count Widget – setup. Choose your own user defined query and add it to the cockpit – easy.
SAP Business One 9.1 HANA Widgets:

SAP Business One HANA – Pervasive Analytics – getting your Key Performance Indicators
KPI's make your life easier by providing instant access to important data. Users can create their own KPI reports using the Pervasive Analytics Designer. Pervasive Analytics allows users to define financial and operational KPI's that reflect their business requirements. SAP Business One 9.1 HANA provides multiple pre-designed KPI widgets which can be displayed in the HTML cockpit. Examples of KPI widgets include Total payables amount due, top 5 customers by sales, top 5 item groups….and plenty more.
SAP Business One 9.1 HANA – Pervasive Analytics: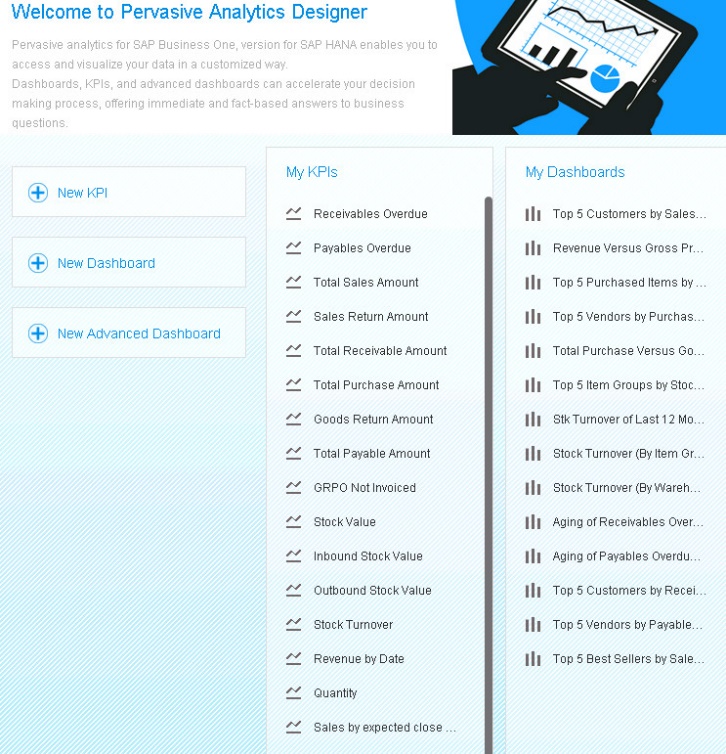 In summary – if you want fast reporting, widgets, KPI's and dashboards to give you and your team access to information for better decision making then SAP Business One HANA is the way to go.
SAP Business One 9.1 HANA Demo: