Leverage Technologies increases efficiency by 26% with SAP Business One HANA
10 Sep 2015 | by Natalie
The team at Leverage Technologies implemented SAP Business One HANA for CRM and finance 4 months ago. Leverage runs all finance, accounts receivable, purchase orders, accounts payable, reporting, and mobility through SAP Business One HANA. We have had such positive feedback from the accounts, sales and marketing team that I thought we should spread the word.
In the words of the Leverage Technologies accounting team
"The enterprise search allows me to search through thousands of transactions to find the document, transaction or contact details I am looking for – in seconds. This saves me time and allows me to give instant answers to our customers".
SAP Business One HANA Enterprise Search: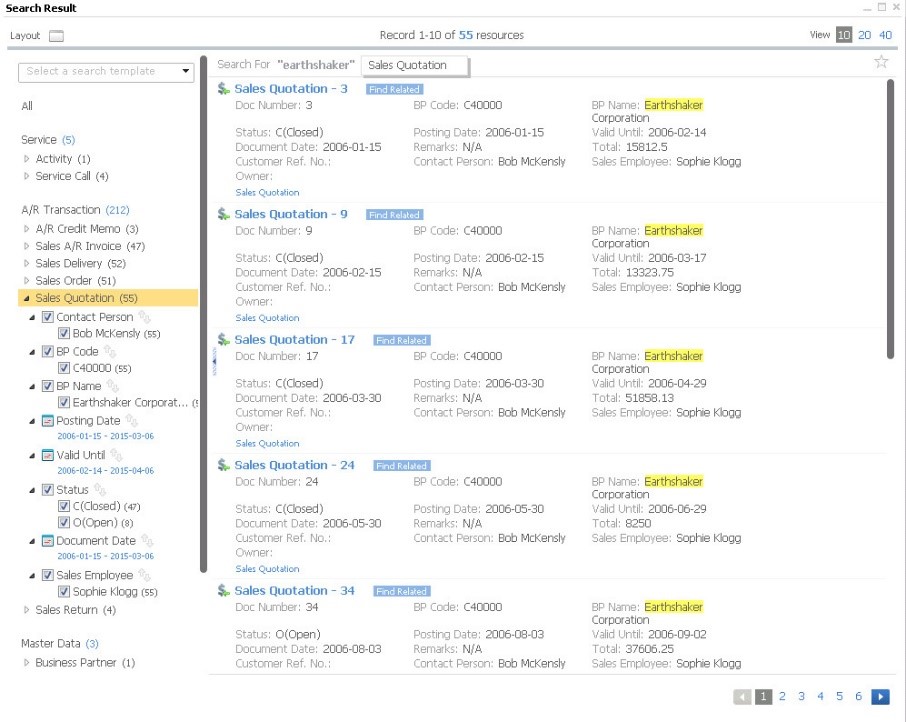 "The new SAP Business One 9.1 MS Excel cut and paste functionality saves me 4 hours a month capturing consultant's expense claims. The Leverage Technologies consultancy team submit their expense claims in MS Excel and I simply cut and paste into SAP Business One (AP invoices) simple, quick and efficient".
SAP Business One MS Excel cut and paste: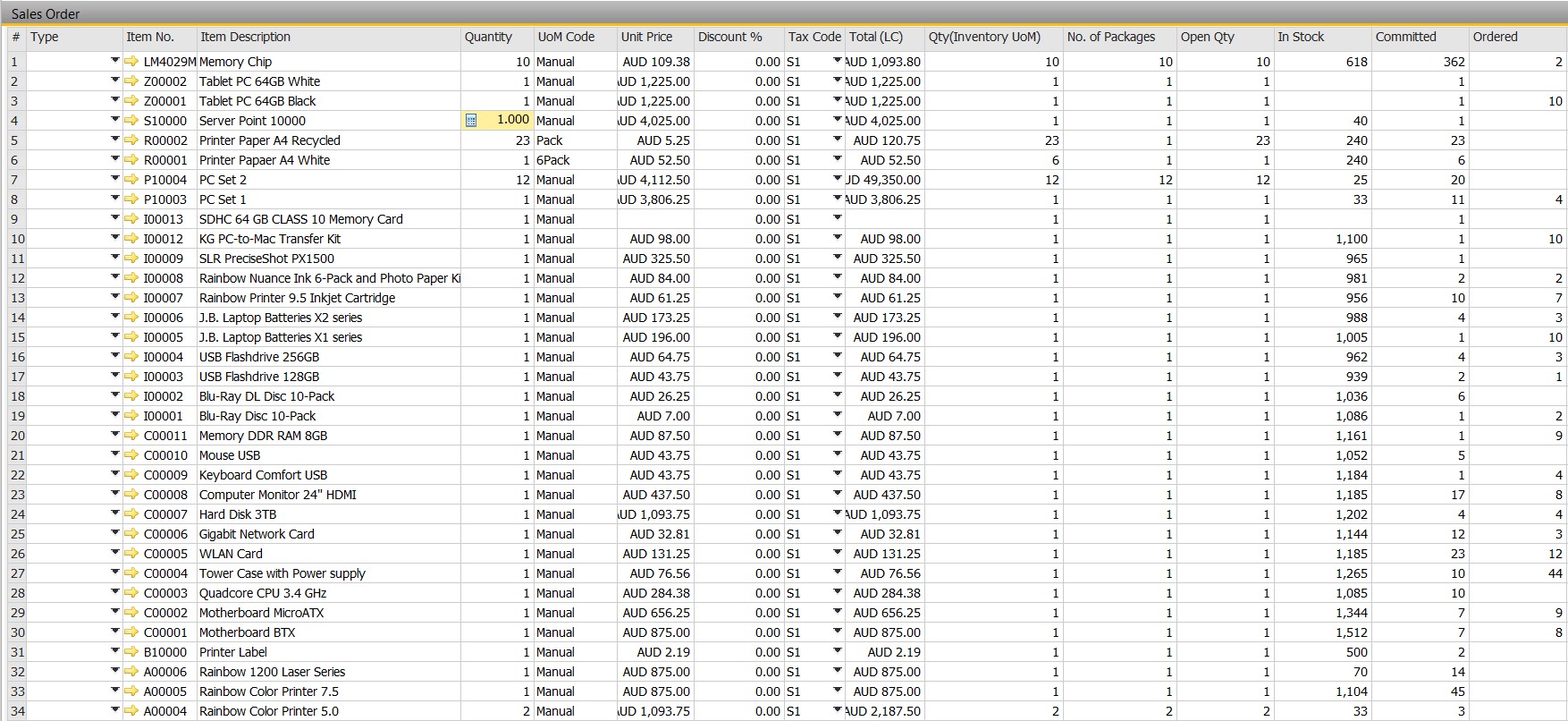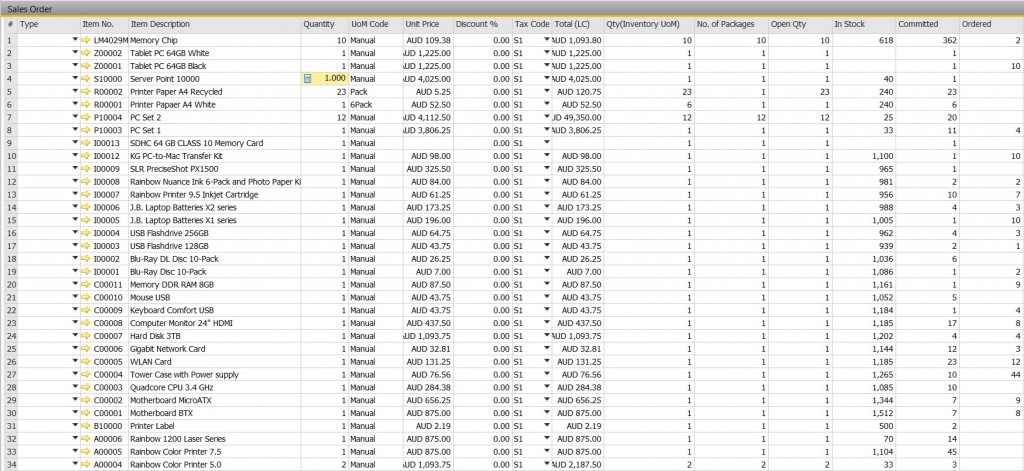 "The SAP Business One HANA dashboards give the management team instant access to information. We use the standard KPIs and dashboards extensively".
SAP Business One HANA Dashboards (demo data):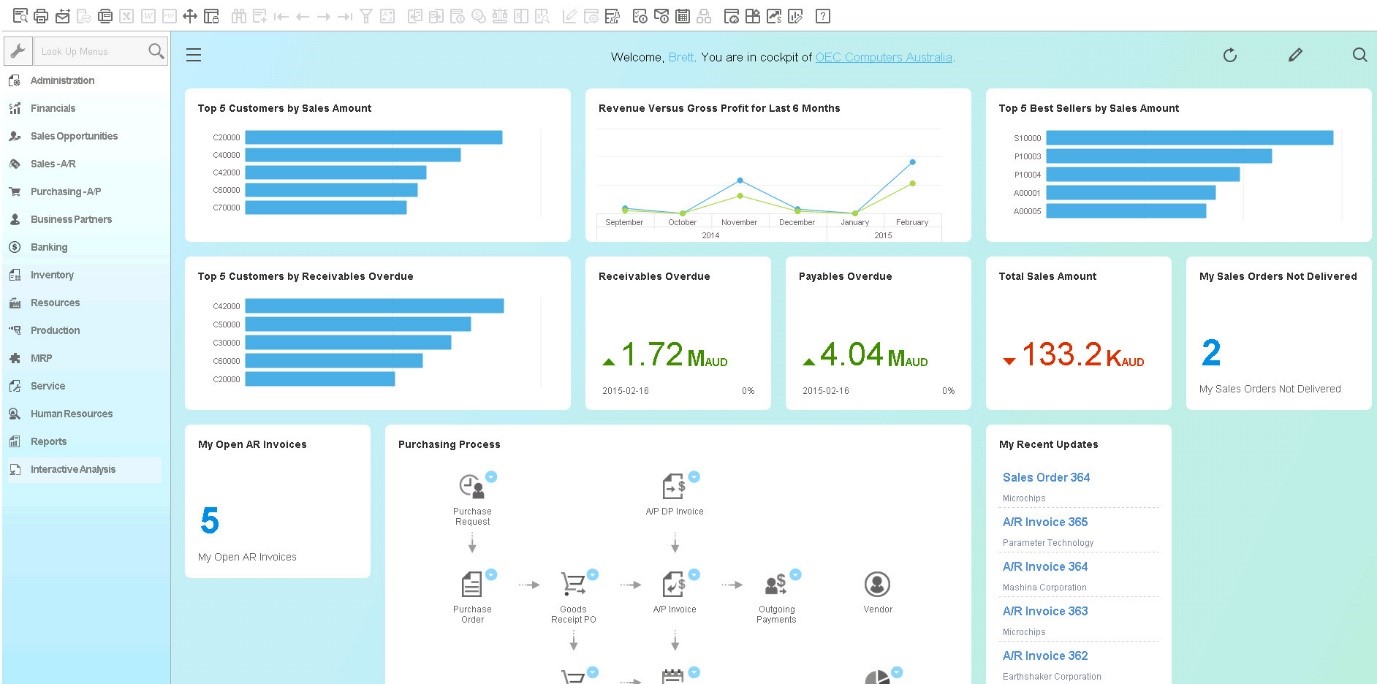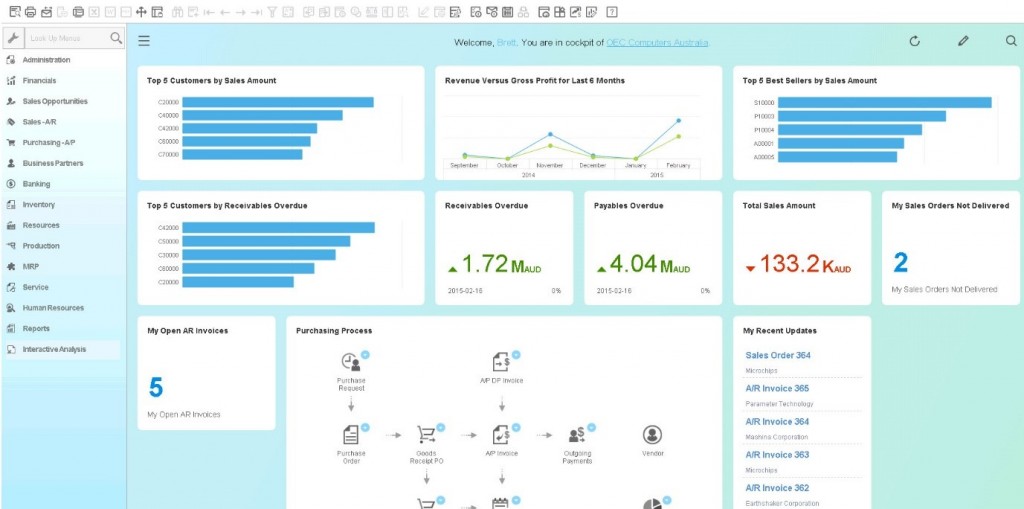 Some examples of time saving SAP Business One technology at work:
The team at Leverage Technologies has integrated timesheet management into SAP Business One HANA. An invoicing process that used to take a full day a week of someone's time now takes 20 minutes.
Back to back PO's are created from sales orders and the SAP Business One relationship map functionality is used to map out the relevant sales order, back to back PO, AR invoice, AP invoice etc. – saving time looking for related documents.
An example of an SAP Business One Relationship Map:


All AP invoices are attached to the SAP Business One AP attachment folder. When payments are ready to be made or there is a query on an AP invoice the team simply clicks on the scanned attachment to review the original document. No more time consuming searches through manual paper folders to find the AP invoice.
Approvals – all credit notes and purchase orders are automated through the SAP Business One approvals process.
Pipeline sales management is run through the SAP Business One CRM – Sales Opportunity Management.
All customer agreements are attached to the customer master data (SAP Business One BP form) to allow instant access to agreements and project related documents.
The SAP Business One GUI editor (9.1 feature) and relevant screens have been modified to suit individual users.
Reporting continues to be automated – a combination of the standard SAP Business One HANA dashboards and KPI's, Leverage Technologies designed HANA KPIs and Dashboards, a few SAP Crystal Reports, use of SAP Business One HANA Interactive Analysis and MS Excel Pivot Tables.
The sales team use the SAP Business One mobility app (iPhone and iPad) extensively. Before meeting with a customer we can check on customer details, previous notes and correspondence, support questions and accounts receivable updates.
Short term plans include the use of SAP Lumira for additional self-service Business Intelligence.
We measured the results of our moving to the SAP Business One HANA platform and we believe that we have become somewhere between 25% and 30% more efficient using SAP Business One HANA. These time savings where measured on:
Invoicing process
Approval process
Document management
Search and find
Data capture
Back to back orders
Report generation
Mobility
An outstanding result achieved through the implementation of SAP Business One HANA.