Leverage Technologies recognised for great customer service – winning multiple awards at the Sage Partner Kick-off
16 Nov 2022 | by Isha Mehndiratta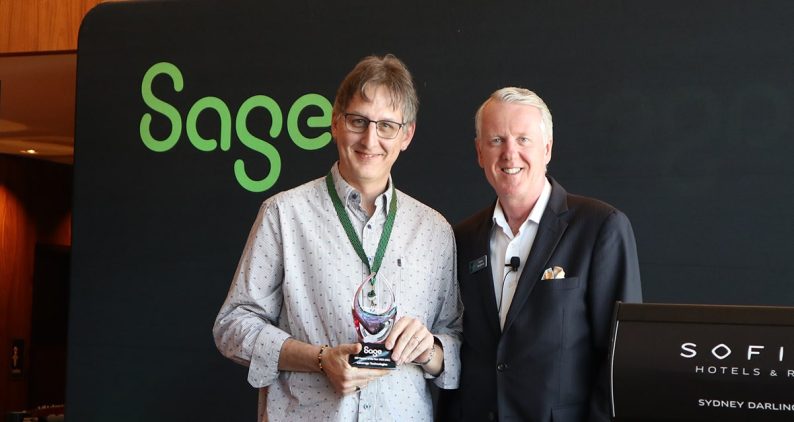 The team at Leverage Technologies recently attended the Sage Partner Kick-off for 2022/23. At the event, the Sage Australia team highlighted the Sage X3 and Sage Intacct product roadmap, great new ISV (3rd party vendor) relationships and many exciting new announcements about Sage X3 and Sage Intacct. At the forefront of all of this is the key objective of Customer First – always striving to ensure that Sage customers achieve real business benefits from their move to the cloud and digital transformation.
In recognition of the achievements made by Leverage Technologies, the Leverage team won 3 major awards:
Sales Excellence – Sage X3
Customer Experience Excellence – Sage Intacct
Sage ERP Partner of the Year
These awards are a recognition of the excellent work that Pierre Fourie and the Sage team at Leverage Technologies put into high growth and exceptional customer service.
The Sales Excellence award for Sage X3 shows the continued high growth that Leverage Technologies and our customers want to achieve. Sage X3 is an outstanding ERP solution for the mid-market and this award shows that the team at Leverage Technologies is leading the way in Australia regarding Sage X3 adoption across local and multi-national customers.
The Customer Experience Excellence award is one that the team at Leverage Technologies is especially proud of. Positive customer experiences must be at the heart of every decision that we make as a team at Leverage Technologies and this Customer Experience Excellence award shows that we are executing on our vision that our customers must be at the centre of all our decision-making in a customer-first environment.
The big award is the Sage ERP Partner of the Year award. Over the years, Leverage Technologies has received more than 20 ERP partner awards across our product portfolio. To be recognised as the Sage ERP Partner of the Year once again confirms that the Sage team at Leverage Technologies is getting the job done – high growth, exceptional implementation and support services and great value add for our customers.
A huge thank you to all our Sage customers and our team members at Leverage Technologies who work hard to ensure our customers are successful. Thanks also to the team at Sage for their support – what a great team.
Isha Mehndiratta has 8+ years of experience in Digital Marketing. Isha's expertise lies in overseeing all facets of companies' SEO activity and presence to propel brand awareness, exposure, lead generation and messaging. From sharing content and analysing metrics to preparing updates and increasing SEO, her experience can be leveraged to enable successful marketing and online communications strategies for the company.